Proxy server er designet til at acceptere vore trafik og forwarde den til vores mål. Selvfølgelig proxy serveren vil højst sandsynlig logge vores IP-adresse, men en efterforsker vil have svære ved at få udleveret log filerne.
Hvis vi bruger flere proxyer i en kæde, gør vi det svære og svære at finde vores originale IP-adresse. Hvis en eller flere af disse proxyer er forskellige steder i verden hvor man ikke bare udlevere log filer. Vil det være meget svært at finde tilbage til vore IP-adresse.
Kali Linux har et fremragende værktøj til proxying vores trafik som hedder proxychains. Nedenfor vil jeg vise hvor let det er at bruge.
Åben en terminal og skriv locate proxychains. Proxychains er i /usr/bin mappe, dette stig er i vores PATH variabel, så kan vi køre programmet fra et hvilket som helst mappe. Det er lige det vi gerne vil have da vi bruger proxychains med andre kommandoer som måske ikke er i PATH variablen.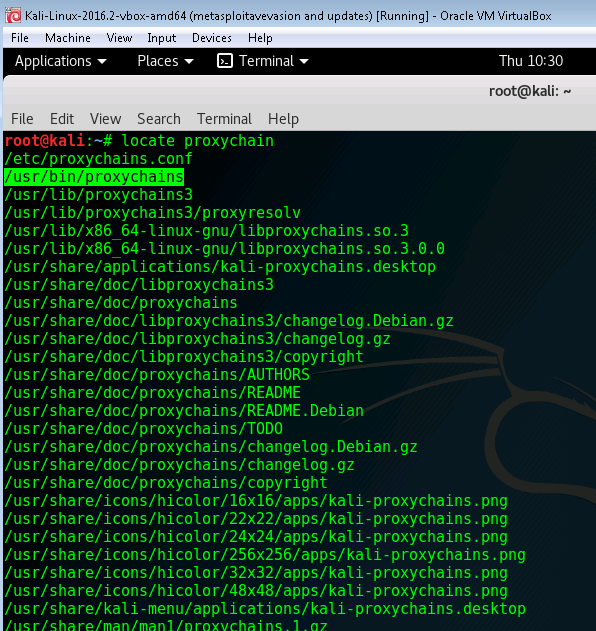 Syntaksen for proxychains commandoen er enkel og ligetil.
Proxychains <program> [argumenter]
Hvis vi vil bruge proxychains til at scanne med nmap anonymt, skrives:
Proxychains nmap –sS <IP adresse>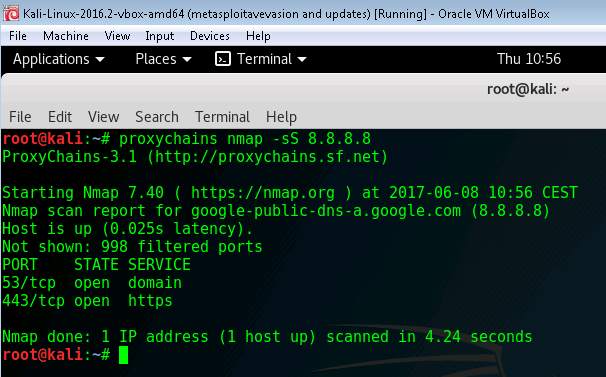 ---
Konfiguration af config filen
For at åbne proxychains.conf, kan vi åbne med leafpad eller en hvilken som helst anden tekst editor.
Leafpad /etc/proxychains.conf
Nu vil vi se en fil som den nedenfor skroll til enden af filen. Efter [ProxyList] kan du tilføje flere proxyer, bemærk at bruge Tor (socks4 127.0.0.1 på port 9050) som default. Hvis du ikke vil bruge Tor skal du udkommentere denne linje med #.
Tor er meget langsom og vi ved at NSA har brudt Tor, så jeg bruger ikke Tor hvis jeg skal være anonym.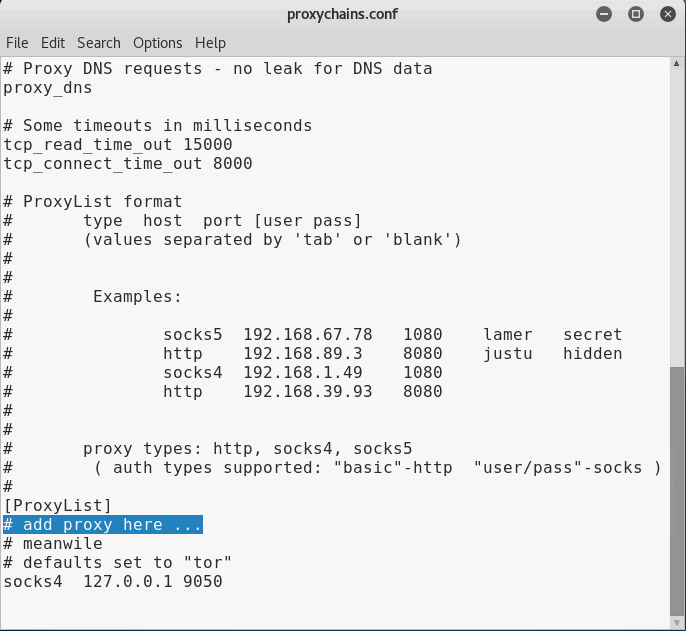 Tilføj flere proxyer og gem ændringerne. Nu ved du hvordan man bruger proxychains, nu kan du hacke relativ anonym. Jeg siger relativ, fordi der ikke er nogen 100% sikker måde at være anonym, med NSA og andre stater der spionere på al trafik. Men med proxykæder gør detektion bliver meget svære.