Installation
I kali Linux er det installeret som default værktøj.
Hvis du bruger en anden version af Linux og vil installer Recon-ng, skriver du følgende:
Git clone https://github.ccom/lanmsater53/recon-ng.git
Jeg anbefaler, at du kontrollerer alle krav på forhånd, ved hjælp af en PIP-version, der bruger Python3, skriv følgende:
cd recon-ng
pip3 install -r requirements Nu er Recon-ng installeret.
Recon-ng command line og Web-interface
Åben en terminal og skriv: Recon-ng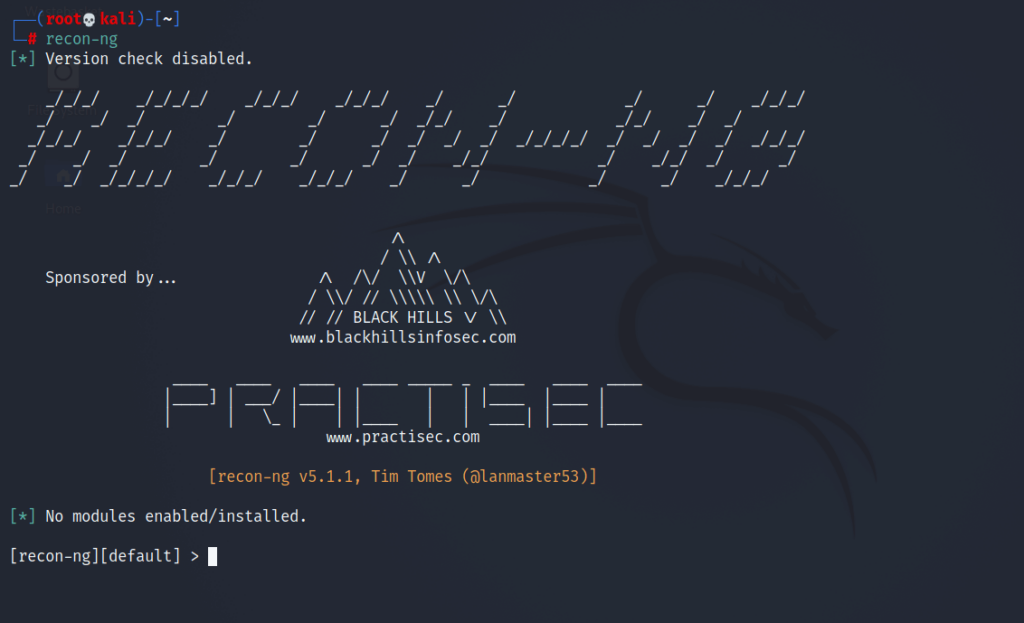 Det første man lægger mærke til der ikke er nogle moduler enabled/installed. Vi bliver nød til af installere de moduler vi har tænkt os at bruge før vi kan bruge Recon-ng.
Web-interface
Åben en terminal og skriv: Recon-web

Nu starter der en web deamon. Start en Web Browser og skriv følgende adresse: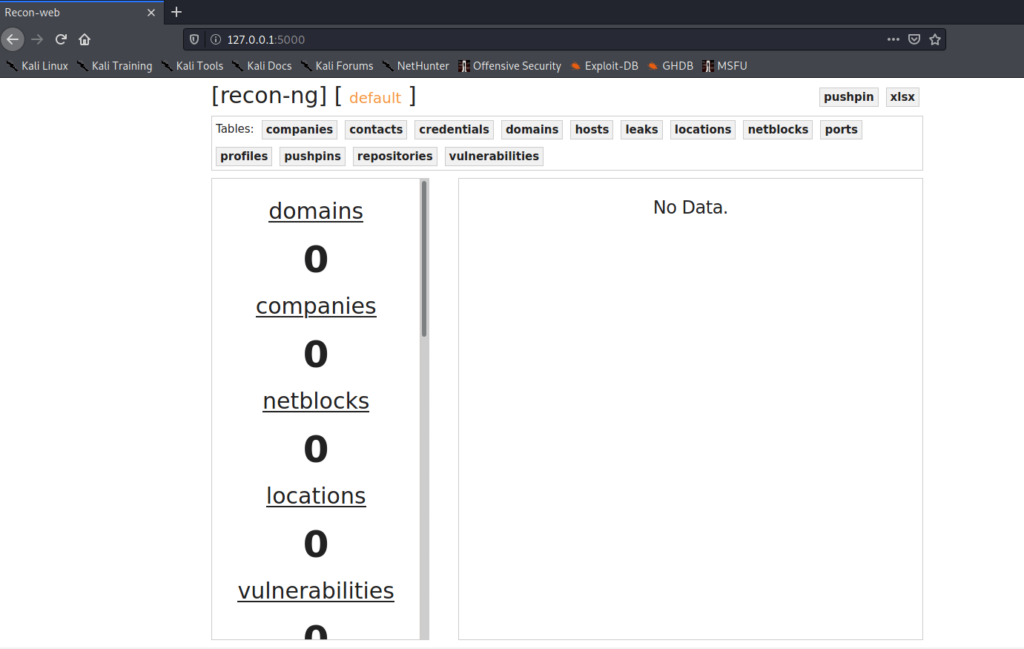 Hjælp menu
Skriv: help her listes de muligheder der er.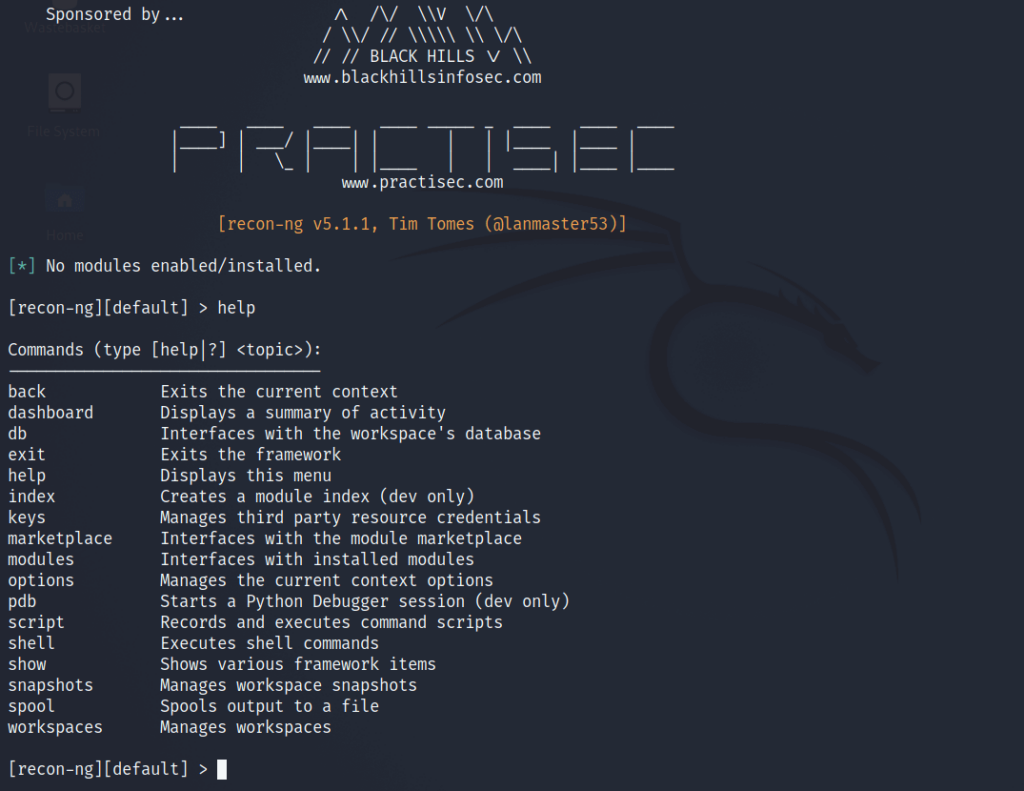 Konfiguration af Recon-ng
Globale konfigurationer, påvirker hvert modul, du har til hensigt at bruge. Du kan ændre variablerne med kommandoen options list viser alle variablerne.

Hvis du vil ændre NAMESERVER til en anden DNS server, skriv: options set NAMRSERVER 1.1.1.1 skriv options list nu er NAMESERVER ændret.
Workspace
Jeg vil anbefale at lave et nyt workspace til hver scanning, så forskellige scanninger ikke er blandet sammen i et workspace. Skriv: worksapces viser de kommandoer der kan bruges. Oprette workspace skriv: workspace create test.

Moduler
Recon-ng kommer med mange muligheder, der kan være vanskelige at bruge. Modulerne er ikke installeret som standard, så du skal selv installere dem efter behov. Dette vil ske med markedspladsen. En simpel marketplace search vil vise dig alle tilgængelige moduler sammen med de forskellige egenskaber. Nogle kræver brug af API-nøgler, andre dependencies for at fungerer, og nogle skal bruge begge.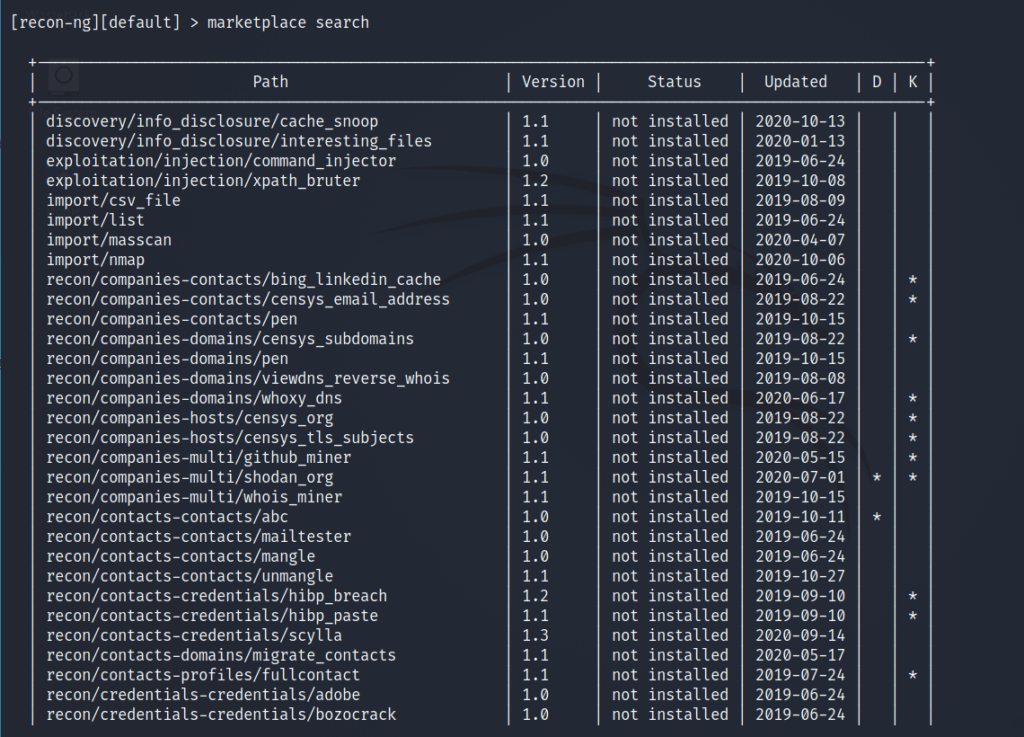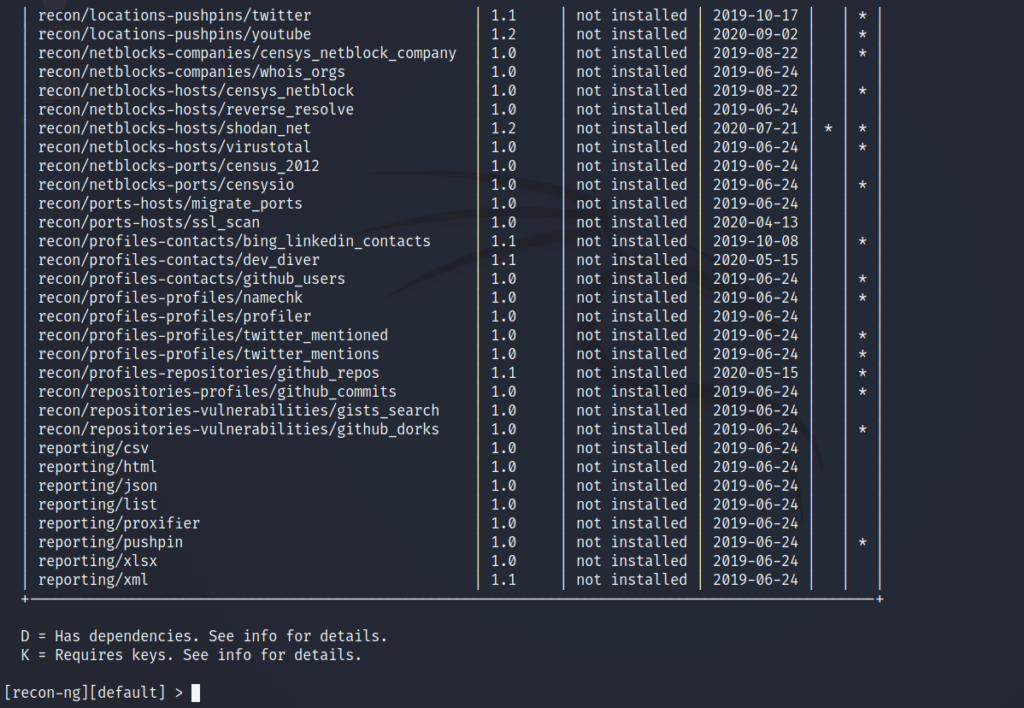 Find det modul du vil bruge og installer det med marketplace install kommandoen, for at installere alle modulerne skriv: markedplace install all. Hvis du installerer alle modulerne, vil der komme mange errors/warnings når recon-ng startes. Det er fordi mange moduler har brug for API nøgler og/eller dependencies.
Hvis du vil have at vide hvad modulet gør, inden du installerer det, kan du bruge marketplace info efterfulgt af modulnavnet eller stien, i dette tilfælde marketplace inforecon/domains-contacts/whois_pocs

I dette tilfælde installerer vi et enkelt modul recon/domains-contacts/whois_pocs
Modulet er installeret, for at bruge modulet skal loade modulet med load kommandoen, skriv: modules load recon/domains-contacts/whois_pocs

Nu er modulet loadet og klar til brug. Først skal vi se hvilke konfigurationsmuligheder der er, skriv: options list

Her er der kun SOURCE der skal konfigureres, skriv: options set SOURCE google.com

Nu har vi konfigureret SOURCE til Google.com Vil du have ekstra information om modulet, Skriv: info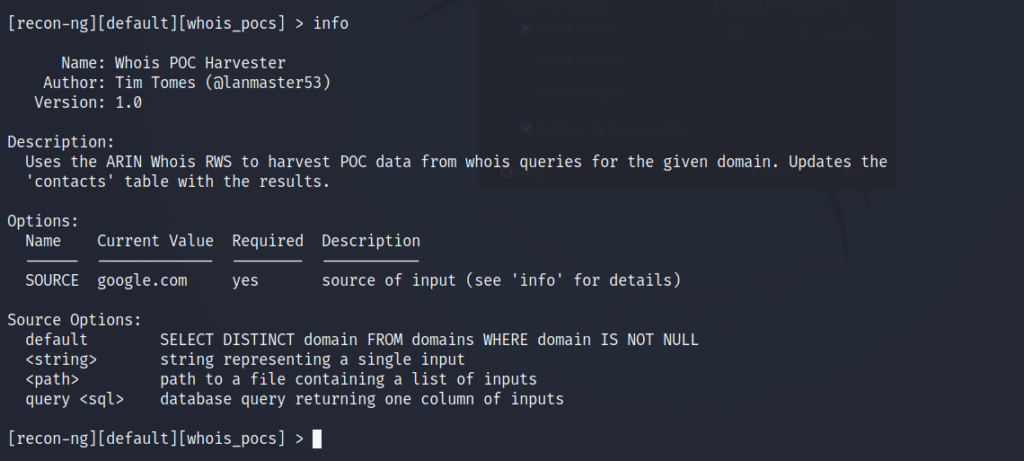 Nu når modulet er konfigureret korrekt, skriv: run for at køre og se resultatet.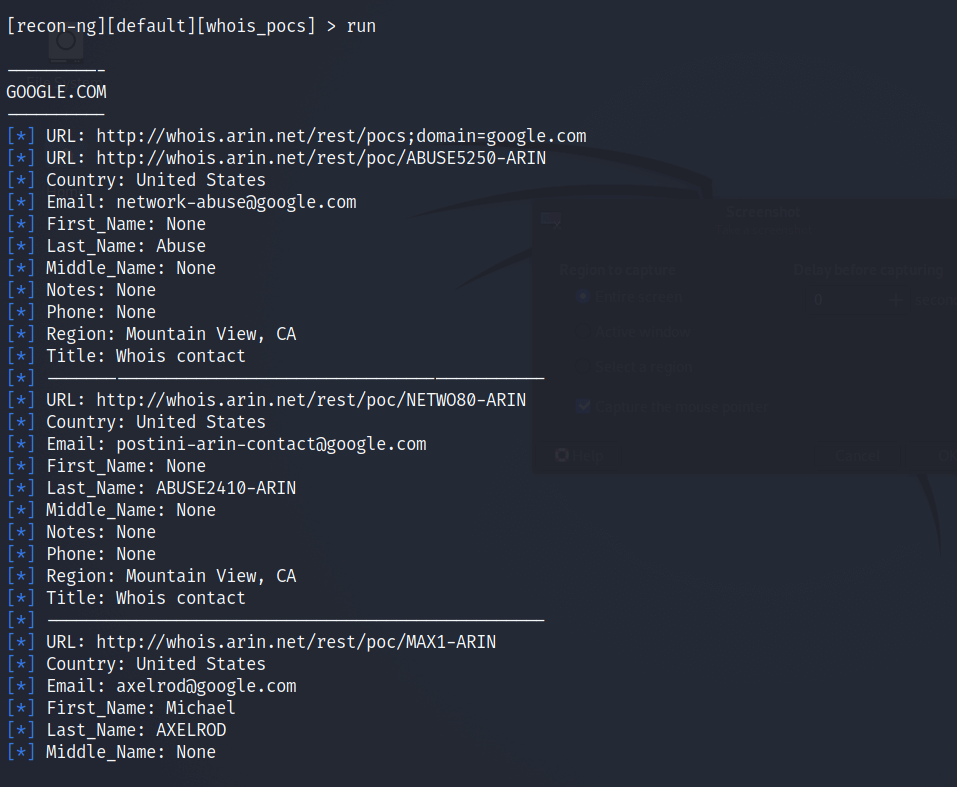 Når søgning er færdig med at køre. Skrive: show contacts for at se hvad Recon-ng har fundet.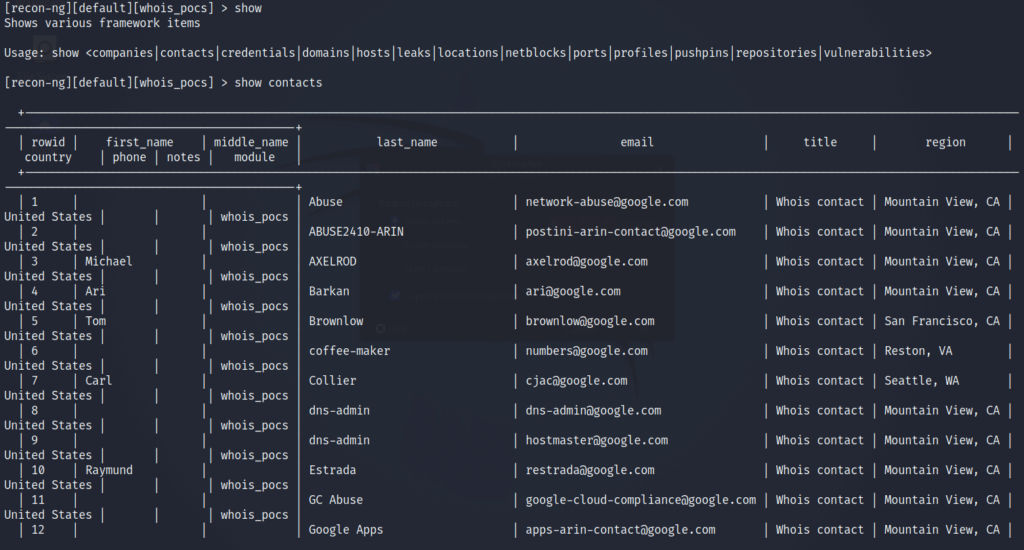 API keys og Dependencies
Der er en del af modulerne kræver en API key og dependencies for at virke. Shodan moduler kræver både dependencies og API key. Nedenfor installeres et af Shodans moduler, Under installationen kommer en advarsel om 'Shodan_api' key not set

For at tilføje Shodan API key, skriv: keys add shodan_api <Inset shodan API key>

Skriv: info, i den røde firkant ses at modulet bruger Sohodan API.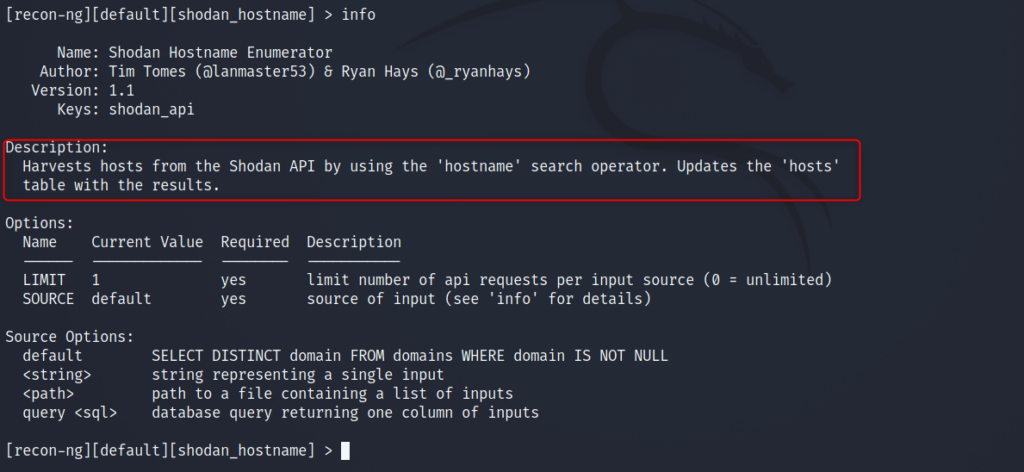 Dependencies er programmer Python skal bruge for at køre modulet. Brug PIP til at installere pakken. Skriv: python3 -m pip install shodan